new product line launch
---
In the summer of 2015, my company, HANDMADE FOR, was chosen to be part of Fund on Etsy, a pilot crowdfunding platform. For the 30-day campaign, I developed and prototyped a new product line; structured, wrote and created needed imagery for our web page; and promoted the campaign on social media and at all in-person shows. HANDMADE FOR CHOICE launched in July and was fully funded within three days, ending at 315% of the funding goal. I personally made over 300 bars of soap and fulfilled 126 orders, all of which were shipped by the end of October. My original campaign is listed below.
HANDMADE FOR | JUNE-OCTOBER 2015
---
Mission
To launch our new CHOICE collection of customizable bars. By allowing customers to select a texture ring and scented core, we can offer 128 different combinations of soap without changing our recipes or traditional cold-process methods. Funds will purchase new equipment to bring this line to market.
As traditional cold-process soap makers, one of our biggest hurdles is maintaining a varied inventory. Our bars are carefully handmade in small batches and then left to cure for over one month before being sold. While this has worked well for our small shop so far, we are limited to offering about twelve soap styles at once. We often have requests for a specific scent or combination that we don't have in stock, and it's disappointing to have to tell customers that there isn't enough interest to make a full batch of their favorite bar.

To fix this, we have developed a unique method that allows our customers to order the exact bar they want, without compromising our recipes or traditional production methods. We are calling this our HMF Choice collection, and by separating our textures and scents, we can create a wide variety of bars that are truly made-to-order. This new collection will increase our offerings tenfold and hopefully enable even more people to enjoy all-natural, cold-process soap. The funds for this campaign will go towards purchasing new equipment to increase production efficiency of this new line and bring it to market.
About HMF…
HANDMADE FOR is a small shop specializing in all-natural body products. It has stemmed from desire to simply make things and everything we offer is created in our kitchen in Somerville, Massachusetts. HMF is built upon the idea that handmade products each have a personal touch that should be emphasized. Our HMF Choice collection builds upon this individualization even further and allows customers to become part of product decisions.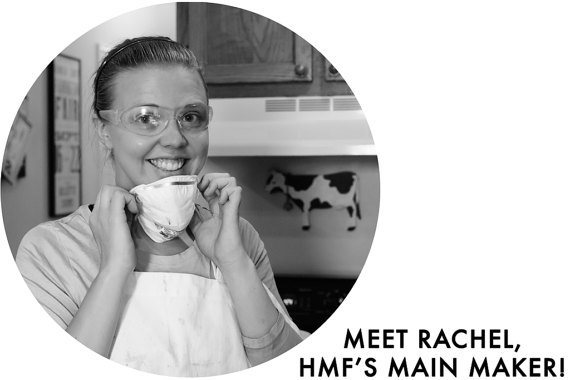 About the HMF Choice collection…
Our new collection, HMF Choice, separates our textures and scents to create truly customizable bars. In our normal production process, these combinations need to be chosen before the bars are made. But, by making the textures and scents separately and then pairing them for each order, our customers can create their favorite bars themselves. Our HMF Choice collection relies on a new assembly process that doesn't change our commitment to using our traditional productions methods and all-natural ingredients.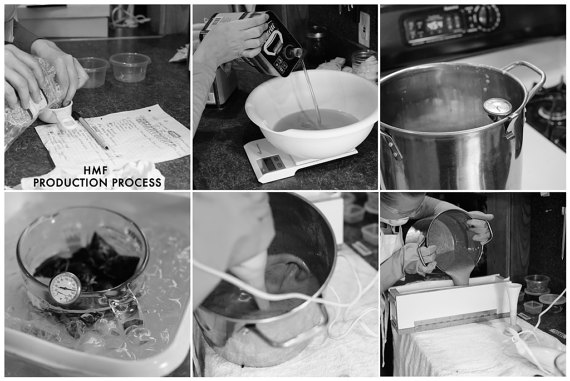 To create our HMF Choice bars, we will make separate batches of soaps for our outer rings, containing the textures, and our inner cores, which will be scented with essential oils. We have carefully selected 8 different ring textures and 16 inner core scents, allowing for 128 unique combinations! Each selection will bring something different to the final soap; please see our list of textures and scents to build your bar. And of course, feel free to contact us with any questions you might have!
When your order is placed, we will press the outer ring and inner core together to create your unique bar, ready to be used! Our final bar size will be comparable to our current circular bars, with a 3-inch diameter and ¾-inch thickness weighing about 4 ounces. We are using our most reliable and simple base oil recipe for our campaign to ensure consistent and speedy production of the bars. The base recipe for these soaps combines olive oil, coconut oil, and palm oil for wonderful all-body bars that are great for maintaining the natural balance of your skin.
Available Outer Ring Textures:
Calendula Petals with Annatto Seeds
Charcoal
Comfrey Tea
Oatmeal Honey (NB: This is our only non-vegan recipe)
Pumice
Rose Clay
Rose Hip Powder
Sea Clay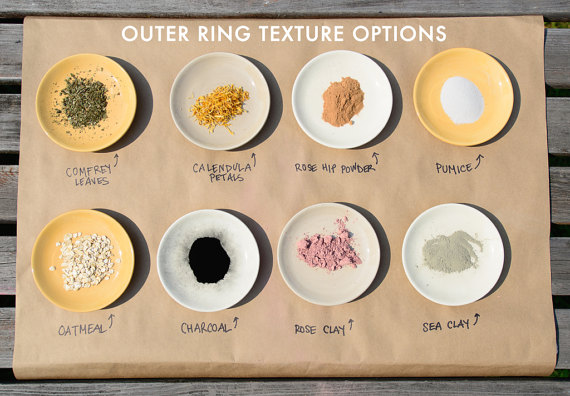 Available Inner Core Scents:
Bergamot
Cedarwood
Coriander
Eucalyptus
Ginger Root
Lavender
Lemongrass
Patchouli
Peppermint
Rosemary
Sweet Birch
Sweet Orange
Tea Tree
Thai Basil
Vetiver
Ylang Ylang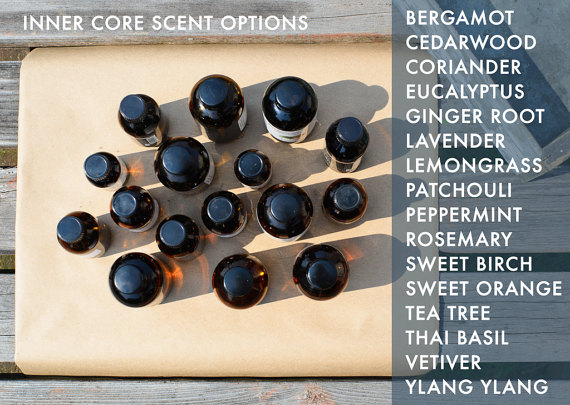 As a backer for our campaign…
You will be the first to receive our HMF Choice soaps. If our campaign is successful, we hope to make this collection a permanent addition to our shop, but currently it is only available to backers! By supporting us now, you will provide us with valuable information as to the interest in this new line and what ingredients should be offered in the future.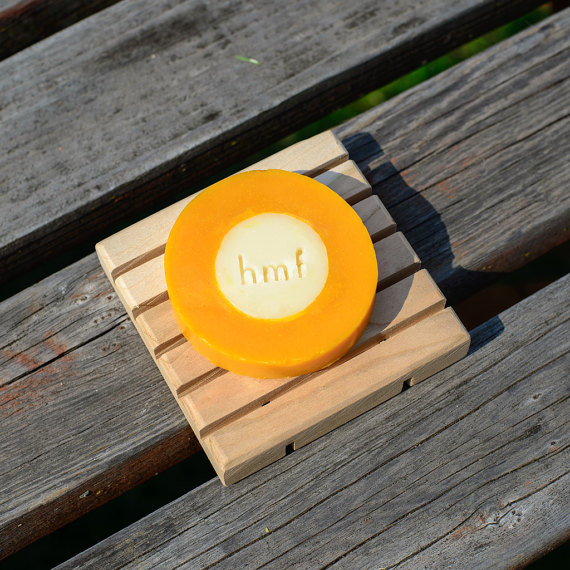 Your rewards…
All of our rewards come with free shipping. Let us know if you'd like any combination suggestions. We're happy to help!
HMF Pin and Random Sample Soap: Support HMF with a nifty thank you pin, printed on birch bark as a nod to our original packaging. Plus, try one of the sample soaps we have available in the shop. Sample soaps will be chosen at random for an extra surprise!
HMF Choice Single Bar Box: Choose one outer ring texture and one inner core scent from the list above and specify combination in the order comments. Plus, get a bundle of three sample soaps and a birch bark pin to show off your love of all things handmade!
Three HMF Choice Bars: Choose up to three outer ring textures and three inner cores from the list above and specify desired combination in the order comments.
Five HMF Choice Bars: Choose up to five outer ring textures and five inner core scents. Go wild!
All Eight HMF Choice Bars: Want to try them all? Get a complete set of outer textures and choose up to eight inner core scents, plus a HMF thank you pin. Please specify scent combinations in the comments.
Custom HMF Choice Batch of Fifteen Bars: Don't see a scent here that you're interested in? Order a custom batch to be made just for you and we will happily work with you to find the exact essential oil you would like to use. Mention what you're looking for in the comments to start the conversation. Please note that any combination of our outer cores can be used, but each bar will need to have the same scented inner core.
What the funds are for…
We need to invest in new equipment to launch our HMF Choice collection. We need more circular molds to increase production volume; a custom-made punch to remove the centers of the outer rings; an arbor press to combine the outer rings and inner cores; and a loaf slicer for more consistent bar thickness. All of this will enable us to get HMF Choice going and hopefully hit the ground running when we make it available to the public.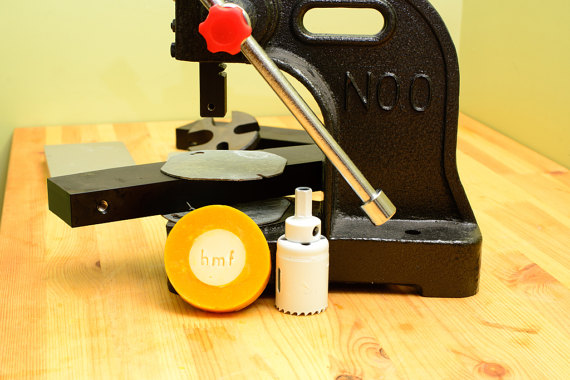 How you can help…
Since this is an all-or-nothing campaign, we must meet our goal to launch HMF Choice. Please spread the word! Like us on Facebook, follow us on Instagram, and use #HMFChoice and #FundonEtsy to keep it all together!
If our campaign is successful, we will make HMF Choice a permanent addition to our shop. In time we want to expand to include more scents, use other base recipes, and explore new shapes– perhaps even offer HMF Choice at our in-person shows!
Production Plan
Our 30-day campaign launches on July 16th, with production beginning as soon as our goal is met. We aim to have all loaves made by the end of August so we can begin our six-week cure time right away. The bars will be fully cured by early October, punched and assembled by mid-October, and shipped by the end of the month. You will hopefully have all of your custom bars in hand by the beginning of November. Our HMF Pins & Soap Sample rewards will ship soon after our goal is met and production begins!
We have plenty of raw materials on hand to fill all quantities offered in our campaign, and, since we will be fulfilling pre-orders, we can scale batches as needed. If the campaign is popular and our goal is met early, we can begin production right away and get the six-week cure period started as soon as possible.
Campaign Risks
Since the HMF Choice collection is only based on a new assembly process, the rest of our methods are unchanged and we anticipate our production will run smoothly. To handle the increased production of bars we are investing in additional round molds.
Our biggest risk will be ordering and testing our new assembly equipment. Our current prototypes have been assembled by hand, which has been successful, but also slow and labor intensive. We need a custom die and press to tighten the tolerance between our outer rings and inner cores. As with any custom-made equipment, the die itself may have initial problems which could contribute to production delays. We are using our in-house Form-1+ 3D Printer to develop prototype die sets prior to campaign completion; once our campaign closes, we will order our machined die set. We will take advantage of our soap's six-week cure period by making any necessary adjustments to the die while the bars are curing. This gives us over a month to test our new equipment before it will be needed to assemble campaign orders. We should have plenty of time to work out kinks and hiccups without delaying delivery of our HMF Choice bars, so you can begin using your custom soaps as soon as possible!